National Train Your Dog Month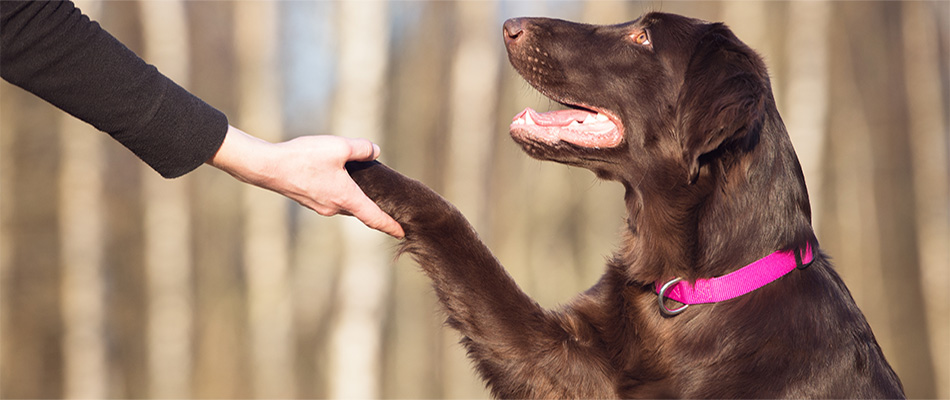 Sit. Stay. Everyone wants a well-trained pup that sits on command and walks well on the leash. They're a pleasure to be around and you can take them more places. And since January is National Train Your Dog Month and it's the promise of a new year, there's no time like now to create a plan for a better-behaved dog.
Dog training starts with time and patience. And treats. Lots of treats. Your goal is to get Max to anticipate tasty rewards for good behavior.
You don't need hours every day either. A few minutes at a time will go a long way. In fact, daily practice will help solidify the principles you want your dog to learn. If you hire a dog trainer, they'll usually come once a week and show you what to do in between sessions.
For example, if you want to train your dog to walk calmly beside you, many dog trainers recommend leashing your pet and feeding a high value treat when your dog is calm. Even if your dog is typically filled with energy, at some point, there will be a lull in the craziness and that is the time to say, "yes!" in an excited tone of voice and give your dog a treat.
That means, if you're walking and the leash is slack – no pulling – then you can reward your dog over and over with both vocal praise and treats which will keep your pet paying attention to you.
Small Treats are Great for Training
If your dog is like most, you're going to go through a lot of treats, so it's best to choose smaller treats or soft , larger treats you can  easily break into smaller pieces. You can ensure your pup learns their commands and while keeping calories in check with these nutritious, grain-free-free options:
1.Wellness Petite Treats Soft Mini-Bites With Lamb, Apples and Cinnamon. They're made for small breeds but dogs of all sizes like them.
2. Wellness WellBites Turkey & Duck Treats. If this particular flavor doesn't suit your dog, there are several other savory options. Easily rip or cut these treats into smaller pieces for more training power!
When you take the time to train your dog, you'll have a well-mannered pooch who sits instead of jumps and looks to you for guidance in unfamiliar circumstances. It's gift to everyone when you help your dog live up to their full potential. After all, dogs don't naturally understand our "rules" so it's up to us as pet parents to help them learn.
What will you train your dog on this month?
About This Page
Date:
06/01/2016