9 Times Dogs Saved Us During Quarantine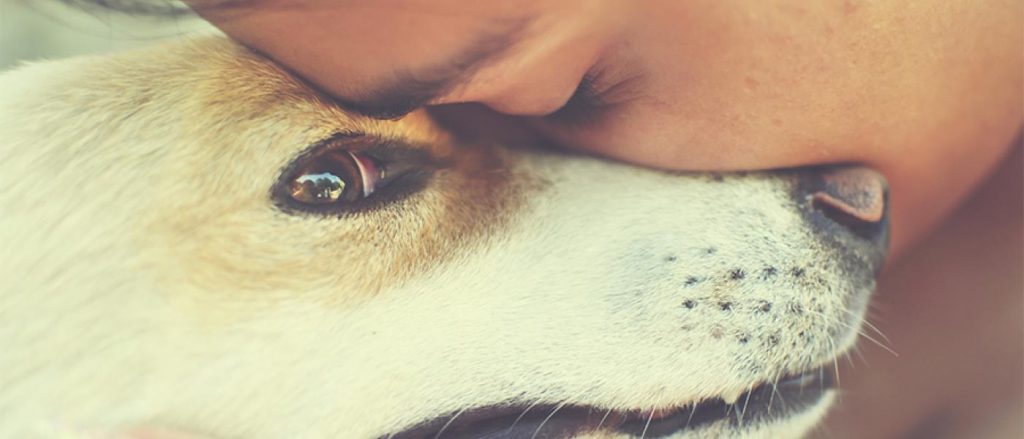 During this time of uncertainty as the COVID-19 virus stretches across the globe, many are turning to their dogs for emotional support. Here are a 9 heartwarming stories of dogs coming to rescue their owners from sadness, fear and anxiety,
Marley is a trained autism service dog. In this video, his owner is having an anxiety attack. Marley stays by her side and slowly begins to step in as the attack becomes worse. While Marley's owner tries to push Marley away, Marley jumps up on her lap and hugs her to which Marley's owner hugs back. It's moments like these that remind us dogs are so much more than animals. They are compassionate beings that want us free from suffering.
While we may not be able to hug others during this time of quarantine and social distancing, our pets are stepping in for support. For the Biemer family, their dog Daisy has been a support for not only mom Joanne, but her three grade-school-aged kids who are now at home indefinitely. Daisy gets the family out of the house for long walks, eats dinner with the "pack" and snuggles up for movie nights and bedtime routines.
A special pup named Jordan is helping kids at the Kid's House in Seminole Country, Florida. Kids House is a center for abused and neglected children offering a safe space for kids to play and heal. Dogs, offering unconditional love, is something these kids desperately need, says the staff. Jordan is that source of joy for everyone at Kid's House.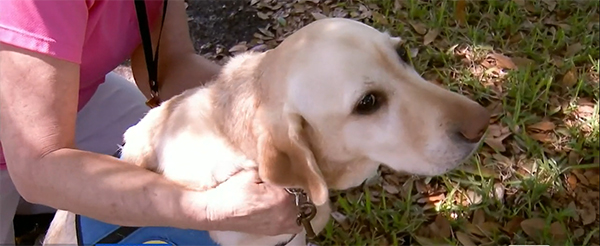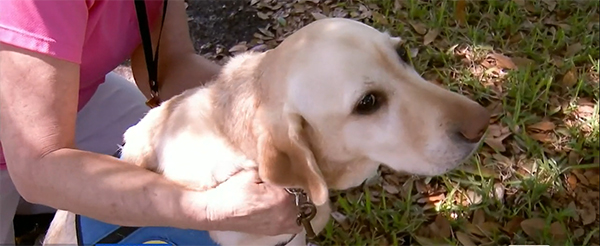 Because of the pandemic, Kid's House is working through teleconferencing to ensure their kids maintain therapy routines and are staying safe. Jordan is present for those calls and kids are instructed to pet their stuffed animals just as they would Jordan. Jordan has also been a huge support to the staff during this trying time, going to them for a hug or snuggle when things get tense.
In Nebraska, the K-9 Comfort Dog Ministry is getting their furry friends out to as many elderly people as possible to provide comfort and solace during these uncertain times. While residents at Greene Place senior living cannot pet the dogs at this time due to safety guidelines, they still get weekly visits where they can see their good friend Nico through their windows, bringing comfort and familiarity to the hearts of all.
Staff says seeing Nico is a connection to normalcy and something for residents to look forward to each week. Nico will say a big hello from the porch, giving residents a moment of peace during this trying time.
Eduardo is a therapy dog at Massachusetts General Hospital. It's his job to cheer up patients and staff, and right now, he's working overtime. He brings smiles to everyone he sees acting as a reminder of hope during long days and even longer nights.
Meet Ed (Eduardo), one of Massachusetts General Hospital's therapy dogs. Our therapy dogs are "paw-fect" companions and have a very important job of comforting our patients and staff members. If you have a pet comforting you during this time of isolation, share a picture! pic.twitter.com/bY0LrQiB12

— MGH Cancer Center (@MGHCancerCenter) April 19, 2020
Eduardo makes his rounds, visiting staff and sick patients which gives everyone a sense of relief when they see his face. His main message is to remember that social distancing is important and to share your own "paw-fect" companion stories on social media.
Located in Jacksonville, Florida, St. Augustine Rehab Specialists work with Parkinson's patients on a daily basis, an illness that is already weighing on patients' minds, but with the outbreak of COVID-19, anxiety fills the center.
Enter Harley, a 3-year-old pup who is a reminder of hope, peace, and joy. His job is to take patients' minds off their illness, away from the virus and help them focus on living a full life without fear. Harley's owner, physical therapist Melanie Lomaglio, sees a vast difference in her patients when Harley is around. During patient sessions, Harley helps patients forget the outside world and focus on health and happiness.
In Denver, Colorado, Dr. Susan Ryan works in the Rose Medical Center ER treating COVID patients around the clock. While the team is working hard to save lives, Wynn, Ryan's therapy dog in training, has become their savior.
Ryan brings Wynn to work each day, but in these stressful times, Wynn has become a godsend. Petting Wynn calms the staff and first responders. Wynn is currently in training with Canine Companions for Independence to become a licensed therapy dog, but she is already well on her way to that title.
Michael Liedtke suffered multiple loses in a two-week span, including the death of his father and dog Surfer. News of the pandemic was another unwelcomed conflict, and even though he felt it was toon soon after Surfer's death, he knew he had to make a move.
Michael and family adopted Wookiee, a 3-year-old Surfer doppelganger. Immediately, levity was brought to the family, including the kids who feel Wookiee is a new constant since school and play are no longer viable options. While this family has brought stability and comfort to Wookiee, Wookiee has done the same and more for them.
In the UK, medical detection dogs are being used to try and smell the virus. With recent success in teaching dogs to sniff out malaria, there is hope that dogs could be able to smell the COVID-19 virus. If it works, this could be a game changer for reopening the economy around the world!
Whether we are a veteran pet owner, a new foster pet parent or we gather joy from watching pet videos online, animals are stepping up during this time of need to help foster mental health and wellness for all. If you have a pet story to tell, put #StayPawsitive on your next social media post and share your joy with the world.
About This Page
Date:
15/05/2020