We're proud to know that we've inspired a lot of 'true believers' who have seen the difference our food makes in their pets' lives. Share your story and inspire others to discover True Wellness®.
Read the latest Wellness® testimonials by browsing: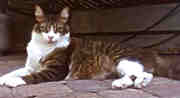 "Five years ago, I glanced out the patio door and saw a kitten eating popcorn that I threw in the yard for birds. As I walked towards him, the kitten ran away. With persistence, I was able to coax him to me. It turns out he had been abandoned, so I adopted him and named him Piki. Piki developed bad allergies and was always sneezing and his mouth and nose were often swollen. I took him to three different vets and nothing seemed to work. I finally did my own research and found that cats can have grain allergies. That's when I triedWellness CORE Original Formula dry food. Within a week of eating Wellness the symptoms were gone. I only wish I had realized sooner. All four of my cats now enjoy Wellness CORE and Healthy Indulgence pouches The second most incredible thing I found is how soft their fur has become. Thank you Wellness for my cats' comfort and wellbeing."
— Helen M., Tarpon Springs, FL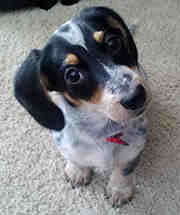 "Miss Juliet is a little princess with a BIG personality! She likes to hang with the big dogs, with her best pals being a Lab, Golden & Boxer! Her pretty dapple coat gets her a lot of attention on her walks, and she's not afraid to flaunt it! This little girl loves CORE® Grain-Free Puppy Formula and just can't resist her Just For Puppy Treats! She's such a little love bug, she even has a heart-shaped spot on her behind! But don't let that sweet little face fool you … if there's a squirrel or bird nearby, watch out 'cause the chase it on!!!"
— Jennifer H., Alexandria, VA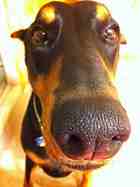 "Dora is a happy, healthy Doberman. This is in no small part to her Wellness Diet. Dora loves her food and is a beautifully healthy dog. We often get compliments about her skin, teeth, and coat because of her diet. She is truly a magnificent representation of her breed and of the species. Dora smiles often, "talks" a lot, and loves to snuggle with everyone. She has never met a stranger, and is a precious member of our family."
— Jennifer A., Farmers Branch, TX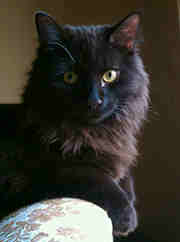 "Biesel is a 1-year-old cat who started packing on the pounds. His mom switched him to Wellness Complete Health Indoor Health Recipe. He tasted the food and loved it and has lost 3 pounds so far. Now he is a ladies' man with fabulous soft fur. Just the sight of that yellow bag makes him the happiest cat alive! Thank you Wellness!"
— Emily G., Pottstown, PA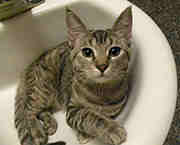 "Athena was sick with an infection and would not eat or drink. She had a high fever and was in a lot of pain. The veterinarian treated her with antibiotics, but three days later she was still not eating. My boyfriend offered up her favorite snack, Wellness Pure Delights Turkey and Salmon Jerky. Athena noticed the intoxicating smell and ate the treat! She ate a lot of those treats while recovering. Your recipe saved Athena's life. Thank you so much for Pure Delights!"
— LaKiesha M.,North Logan, UT
We're sorry, we were unable to find testimonials that matched those exact specifications. Please try refining your search.