Why Wellness CORE RawRev is Different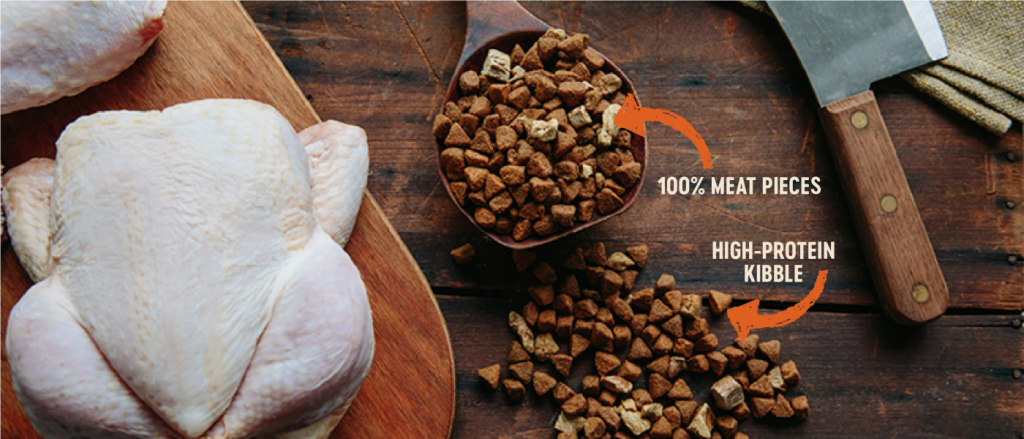 At Wellness, we're driven each day to deliver uncompromising nutrition for the pets that depend on us. Let's take Wellness CORE, for example. Wellness CORE, our high-protein recipes for dogs and cats, has become a tried-and-true approach to premium natural nutrition for pets. Wellness CORE offers high-protein, meat-rich formulas with lowered carbohydrates.
Start feeding one of our Wellness CORE foods, and you'll notice your pet will likely develop strong, lean muscle mass, a silky, lustrous coat, and an improved level of energy to share in all of life's experiences with you.
And to take that great nutrition one step further, now there's Wellness CORE RawRev, formulas that give pet parents the opportunity to feed one of the most innovative advancements in the pet food category.
What is CORE RawRev?
With CORE RawRev we started with our CORE kibble and added 100% freeze-dried raw meat pieces. These pieces are evenly dispersed throughout the bag to ensure every meal contains the savory goodness of raw meat with the scoop and serve safety and convenience that you know and love.   
Why is CORE RawRev different?
Meat.
Wellness CORE RawRev's range stands out from other brands. Why? We use just 100% raw meat, diced and then freeze dried. With similar products, the inclusions are a mix of ingredients, there's some meat, but with added fillers and binders. By using just freeze dried meat in CORE RawRev, we're delivering key protein nutrients such as incremental amino acids and vitamins, with an incomparable taste.
Taste.
For your dog or cat this means that every bag of CORE RawRev delivers an exceptional savory, meat taste for heightened mealtime excitement. In other words, scoop and pour CORE RawRev, then sit back and watch your dog or cat reach a new level of mealtime joy.
With each bite your dog or cat takes, they're getting to savor the aroma, texture and taste that only comes with freeze dried meat.
With pets becoming more and more fussy today, this makes for the perfect solution for all those fussy dogs or cats. In fact, when it comes to cats, a recent study showed that 9/10 cats loved CORE RawRev, which given how fussy cats can be, it shows just how much pets are loving this recipe. 
Has your dog or cat already tried CORE RawRev? Share your experience with other Wellness pet parents who might be curious about learning more by tagging your stories and photos with @wellnesspetfood and #WellnessCORE and we may feature you on our social media or website!
About This Page
Date:
20/09/2019