What's So Unique About CORE® RawRev for Cats?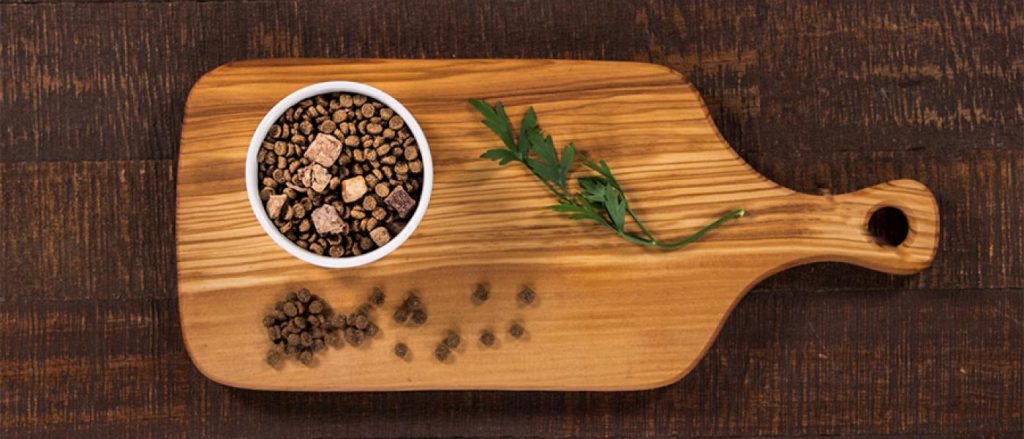 If you've read our post on How to Honor Your Cat's Inner Lion (or have ever met a cat!), then you know that cats instinctively crave raw animal protein. And for good reason. Since cats are obligate carnivores, they need high-protein diets in order to thrive.
If You're Considering Feeding Raw
Have you ever wondered what it might be like to incorporate raw into your cat's diet? Nutritionally, raw protein provides cats with vitamins and minerals that are not available in cooked diets unless they are supplemented. But there are some challenges associated with adding raw protein into your cat's diet. For example, there can be food safety concerns around handling and serving raw food, not to mention that serving raw is a messy task that many cat parents aren't comfortable with. 
Not All Raw Recipes are Created Equal
In order to get the benefits of raw protein in a diet, there are newer products popping up that combine traditional kibble for cats with freeze-dried raw ingredients. However, these products aren't are all the same.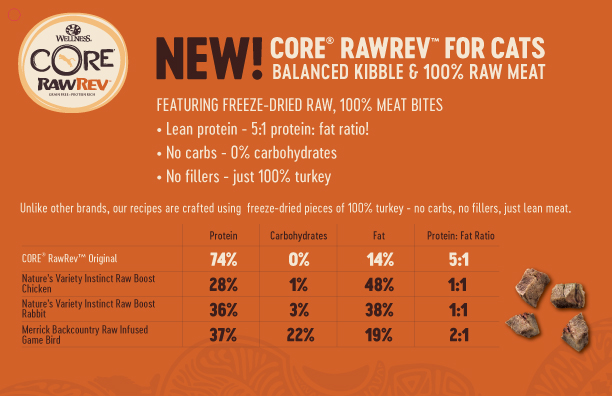 Most cat foods that incorporate freeze-dried raw meat mix the raw meat with other fillers or ingredients for cost savings. This could mean that while your cat is getting a boost of nutrition from the raw meat, they're getting a boost of unnecessary carbohydrates, fillers and calories, too.
Instead of combining raw protein with other ingredients, Wellness' new CORE RawRev for cats combines high-protein, grain-free kibble with lean cuts of freeze-dried raw turkey—and nothing else.
How CORE RawRev Freeze Dried Compares
If based on the above, you're drawing the conclusion that the freeze-dried pieces in CORE RawRev for cats are all meat, and nothing but meat—you'd be right! The great thing about the simplicity is that your cat is only getting lean protein, vitamins and minerals from the pieces without any added carbs or calories.
In fact, compared to other similar products on the market, CORE RawRev for cats offers the highest protein and lowest fat and carbohydrates. 
But How Does it Taste?
Because there aren't any filler ingredients to dull down the flavor, CORE RawRev is packed with delicious 100% turkey and a meaty aroma that cats absolutely love. CORE RawRev for cats promises 100% acceptance. What that means is that if your cat doesn't excitedly gobble up their RawRev, Wellness offers a 100% Catisfaction Guarantee and cat parents can return the unused product for a complete refund. 
Just Ask These Kitties
You can pick up CORE RawRev for your kitty at PetSmart or online at Chewy.com. Has your cat tried Wellness CORE RawRev? We'd love to hear from you! On Instagram, tag @wellnesspetfood and #WellnessCORE for a chance to be featured on our social communities or website!
About This Page
Date:
28/08/2018