What is AAFCO?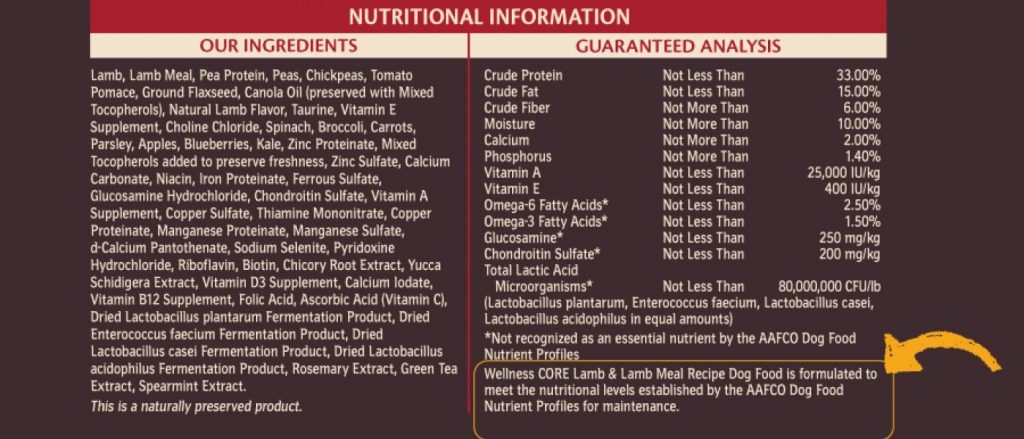 At Wellness, we hold ourselves to the strictest quality standards when it comes to sourcing our ingredients, manufacturing our foods and labeling or our products. As we strive to exceed the expectations of the industry and craft the best natural food for our pets, we look to AAFCO (Association of American Feed Control Officials) to guide our decision-making when it comes to formulating and labeling our products.
What is AAFCO?
AAFCO is a non-profit association of local, state, federal and international regulators whose primary goal is to ensure the health of our pets through nutritional standards and non-misleading labeling of pet food. AAFCO advises pet food manufacturers and state legislators on the appropriate nutritional values needed to support animals at different life stages (ex. growth, gestation/lactation, adulthood) and how to present nutritional information on product labels.
As an advisory association, AAFCO does not actively regulate pet food products. Instead, regulation is the responsibility of individual states. As a trusted source in the industry, AAFCO guidelines are followed by pet food manufacturers and adopted as regulation in most states.
AAFCO consistently revises their guidelines based on the latest research in pet nutrition to best support the health and wellbeing of our pets.  Recently, AAFCO made the following changes to their dog food guidelines.
In addition to formulating our recipes with our strict standards, we have updated our products to ensure they are all AAFCO compliant:
Optimal Calcium Level has been defined for Large Breed Puppies (puppies who will be 70lbs+ as an adult). AAFCO now recommends including on the label, with nutritional information, whether the product meets the levels of calcium recommended for the growth of large breed puppies.
The recommended daily amount of Vitamin D has been reduced. AAFCO has recommended that any dog foods that exceed this amount be reformulated to meet the new standard.
DHA is now recognized as an essential nutrient for the growth of puppies, so any product that is formulated for puppies should include DHA and report the DHA level in the Guaranteed Analysis on the product label.
Recommended daily calorie intake has been refined. 
AAFCO recommends that nutritional information indicates for what life stage(s) the food is intended (growth, maintenance (adulthood), or gestation/lactation). You are now required to specify if your product includes or excludes the growth of large size dogs.
Calorie Content is now required on all forms of pet food – previously it was not required for mixers, toppers and treats.
 
AAFCO guidelines as a whole help define which pet foods are "complete & balanced" versus "intended for supplemental feeding only". "Complete & Balanced" products are those that meet all of the daily calorie and nutrient requirements of your pet and can therefore be fed alone without concern for nutrient deficiencies. Foods that are "intended for supplemental feeding only" – such as treats and toppers – do not contain all of the nutrients that your pet needs for optimal health and therefore must be fed along with other foods to ensure your pet gets all of the calories and nutrients that they need.
To learn more about impacted Wellness wet dog products, click here.
Do you have any questions about AAFCO or a product you're currently feeding? We'd be happy to talk. You can reach one of our knowledgeable Consumer Affairs team members Monday through Friday, 8am-5pm ET at 800.225.0904 or email us at info@wellpet.com
About This Page
Date:
26/04/2018