Kono the Golden Retriever Becomes a Therapy Dog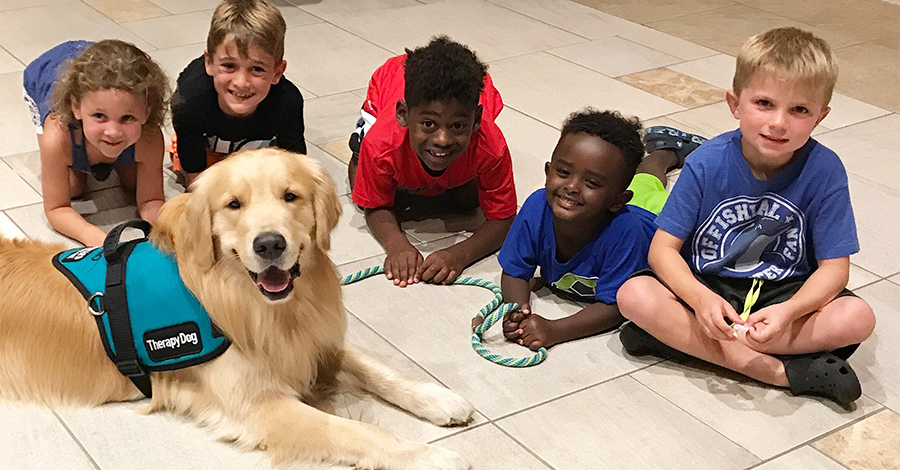 Hi, I'm Kono! I am a 2-year-old Golden Retriever who lives in Orlando, Florida. My humans describe me as sweet, confidently curious, and most of all, very loving! When I am not swimming, hosting doggy play-dates, or going on new adventures, I spend my time volunteering as a registered Therapy Dog with Therapy Dogs International.
What is a Therapy Dog?
Therapy Dogs International (TDI) is a volunteer-based organization that is committed to regulating, testing, and registering Therapy Dogs and their handlers. Therapy Dog and handler teams will visit locations such as nursing homes, hospitals, schools, rehabilitation facilities, as well as other institutions and places where Therapy Dogs may be needed.
It's important to note that in the U.S., Therapy Dogs have different rules and regulations than Service Dogs. Service Dogs are protected under the Americans with Disabilities Act (ADA). According to the ADA, "A service animal is a dog that is individually trained to do work or perform tasks for a person with a disability" (www.ADA.gov). On the other hand, a Therapy Dogs' purpose is to provide comfort and/or emotional support to any number of people, and do not provide a specific task/s to mitigate a disability for one individual. Service Dogs also have public access rights, whereas Therapy Dogs must be invited or receive permission to enter facilities. 
How did I become a Therapy Dog?
In the summer of 2017, I officially passed TDI's test. A Certified TDI Evaluator assessed my behavior and reactions to a number of situations and scenarios. TDI has recently revamped their testing requirements, meaning the requirements to pass each section is judged tougher and the acceptable standards even more strict.
Not only was my general temperament evaluated, but my behavior and reactions were judged as well. The evaluator used objects and replicated situations a TD will come in contact and experience throughout their career to assess my behavior around them.
My Assessment
For example, I was evaluated based on how I responded to medical equipment being used around me (wheelchairs, crutches, etc.), sudden loud and unusual noises, strangers running up behind me, the presence of other dogs, and so forth. I was also judged on leash manners, such as loose-leash walking on a normal buckle-collar. I also had to listen to my handler and ignore food on the ground as I walked over it. Additionally, upon practicing my "greeting" with a "patient", I had to flawlessly obey my "Leave It" command and willingly turn and walk away when the stranger, or "patient" offered me food. All of this took place on a busy Saturday morning at a popular park in the city.
It took about an hour to complete all the required sections. Since my mom and dad BOTH desired to be my official handlers while we are out on therapy visits, I tested with each of my parents separately. This meant doing every step perfect not once, but TWICE! My family is so proud of how I was able to complete all of the requirements impeccably in a very distracting environment.
Now that all of my paperwork is submitted and we have completed the necessary registration steps (such as submitting health forms) I am ready to touch lives in my future as a Therapy Dog! We are so excited to be a part of this amazing organization and the journey that awaits.
"God sent angels down to earth in the form of dogs with notes saying, 'don't judge, just love'; they ate the notes but they keep trying to deliver the message." -Unknown
About This Page
Date:
12/10/2017