How to Photograph the Perfect Holiday Card with Your Pet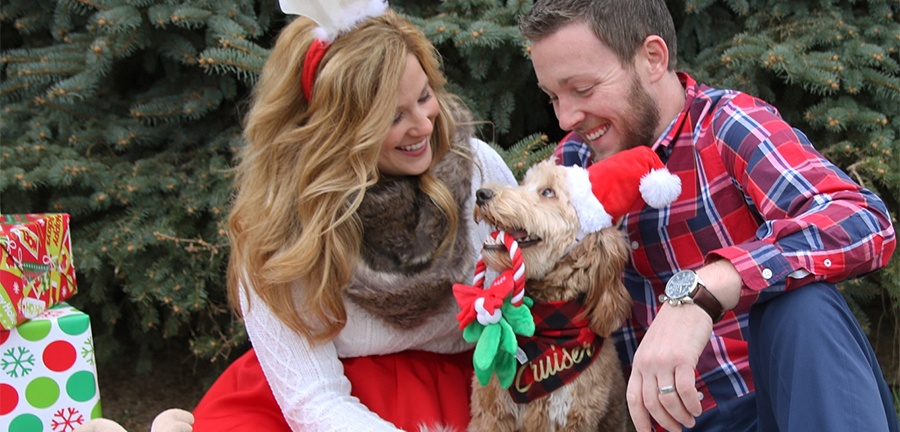 Great pet photos that are the stuff of frame-worthy holiday cards sometimes just happen by happy accident, but more often than not, they are carefully planned and executed. By following these careful steps, you, too, can take the puuurfect holiday card photo of or with your pet.
Find a Location that Makes Your Pet Happy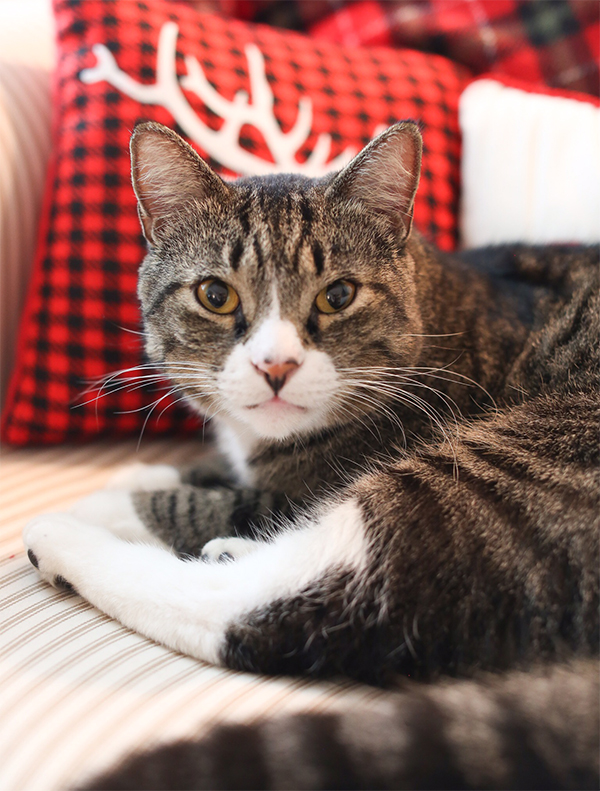 Photo via Wellness fan, Donna S.
Any time you photograph your pet, you should be in an area where your pet is happy and familiar. If you are somewhere strange, your pet might be too curious or agitated to sit still. 
Other tips for the perfect holiday card location are: 
Find a location that captures the holiday spirit. A snowy park or field or on your couch atop a festive red blanket will do the trick.
If your setting doesn't set the scene for a holiday card, use one or two (like a giant candy cane, a Santa hat, or a gift wrapped in subdued paper). Keep props to a minimum, though.
Pick a setting that doesn't compete with the focus. Look for a setting that doesn't have a lot of textures or action, so when you snap your photo, your pet is the primary focus.
Make sure your setting is well-lit. Natural light is a best-kept secret for beautiful holiday card pet photos.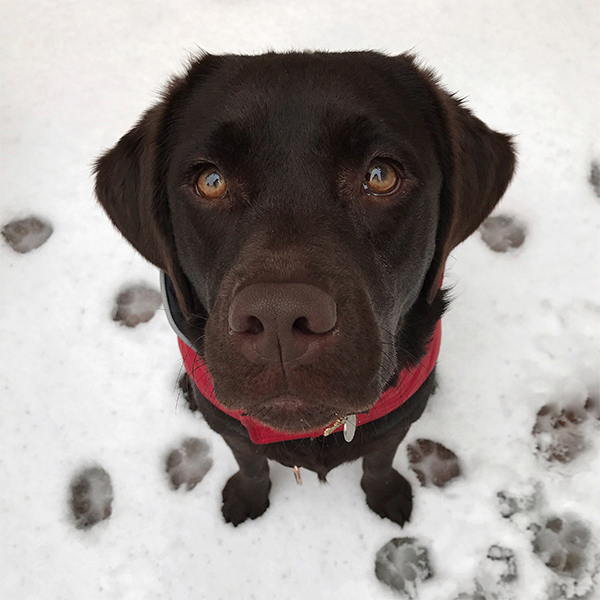 Photo via Wellness fan, Jess K.
Turn Off Your Camera Flash
On the topic of lighting, turn the flash on your camera or phone off. Flashes not only create odd shadows, but they can also startle your pet.
Instead, plan your photo session for the early morning or late afternoon–specifically, just after dawn or right before dusk. The soft, glowing natural light illuminates your subject without casting harsh shadows.
Get on Your Pet's Level
If the picture is a solo photo of your pet, kneel, sit, or lay down on the floor to get an eye-level photo. The best pet holiday cards are intimate because they allow the audience to connect with the subject, not look down at him or her.
Keep Distractions to a Minimum
Getting your pet's attention for holiday photos can sometimes be a challenge. Feel free to use a toy to get your pet to look at the camera, but do not have too many toys or distractions at hand because too much stimulation will divide your pet's attention. 
Avoid Using Your Zoom
Most people use their smart phones to take incredible holiday pet photos, which is fine, but the more you zoom in, the lower the quality of the photo becomes. Instead, get close to your subject.
If that is not an option because you are trying to get an action shot, take the best photo you can where you are standing, then zoom, crop, and edit after the fact.
Have a Plan Before You Start
Before you and your pet get out into the field (whether "the field" is a literal field or just in front of your fireplace), have a plan for the photo you want. Picture the lighting, the positioning, and the props how you want the image to look, beforehand. (Look at Instagram and Pinterest for inspiration.) While you should be open to making changes (your pet might want to sit up instead of lay down, for example), a plan enables you to get in and get out before your pet gets bored with the project. (After all, your pet doesn't have all day.)
Speaking of a plan, if you hire someone to take the photo of you and your pet or of your pet for your holiday card, be specific about what you want. In particular if you hire someone, have a few ideas in mind.
Most Importantly, Have Fun With It!

As most of us know, pets can be unpredictable. No one said photographing them would be easy! So go ahead and have fun with it! Who knows, the bloopers may end up being your favorite shot!
Summary
To conclude, you can get the best holiday card by:
Finding a great location where your pet is comfortable
Keeping props and distractions to a minimum 
Using natural lighting
Getting on your pet's level
Avoiding using your zoom to frame the shot (use an editing program instead)
Having a plan for the picture before you start
Have fun with it!
Once you get the perfect holiday pet card, you'll want to share it with those you love. Make sure to share it with us, too by tagging us on Instagram, Twitter or Facebook, and include @wellnesspetfood for a chance to be featured! 
The "purrrfect" holiday card is a perfect way to let your pet's love shine through to others and to spread holiday cheer. At Wellness Pet Food, we let our love for pets shine by creating natural pet food, snack, and treat recipes that pets adore. 
About This Page
Date:
05/12/2018