Get to Know Wellness Natural Pet Food Veterinarian, Dr. Danielle Bernal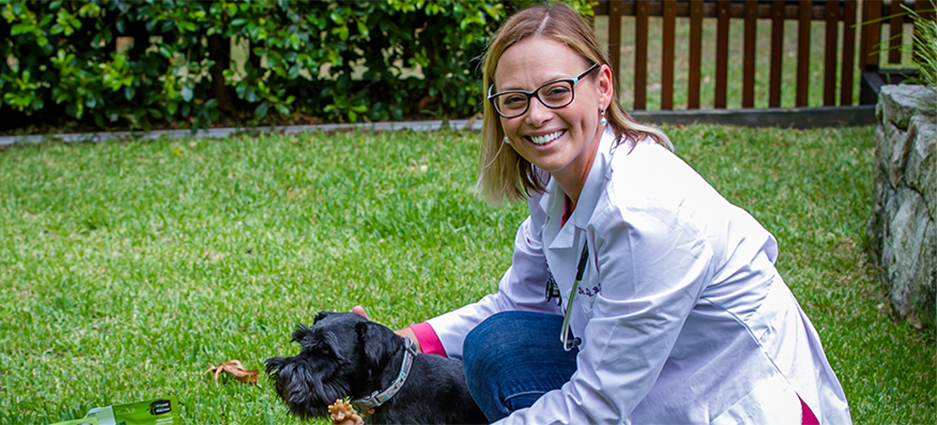 We're excited to formally introduce you to Wellness Natural Pet Food veterinarian, Dr. Danielle Bernal. Dr. Danielle travels across the United States and other countries where Wellness is sold. In each place she visits, she educates pet parents on the role that premium, natural nutrition plays in pets' health and longevity.
We were able to catch up with Dr. Danielle for an interview. Keep reading to get to know Dr. Danielle:
Q. Tell us a little bit about yourself.
I grew up in Sydney, Australia on a hobby farm with a backyard full of pets. Having always wanted to be a veterinarian, I completed my Bachelor of Veterinary Science degree at the University of Sydney before working at an equine and small animal clinic. I absolutely adored the life of a veterinarian. Each day was different with unique challenges. Whilst it could be exhausting, it was also so very rewarding.
My role at WellPet is to educate our customers, consumers and internal sales and marketing teams about the importance of natural pet nutrition and how our WellPet brands are crafted to support the optimal health and wellbeing of dogs and cats around the world. When I am not helping WellPet customers choose the best products for their pets, I am often found on the sidelines of my 3 young boys' sporting activities be that surfing, track and field, swimming or football. And my husband and I adore travelling, triathlons and taking our Border Collie Megs down to the dog park at the beach.
Q. What inspired you to become a veterinarian?
I adored animals growing up and would spend every waking minute down the back of the farm either teaching my dogs new tricks or preparing my horses for our next competition. A life with animals meant there was usually a veterinarian on our property. Whether it was for my horse who decided to go through the three rails of our wooden paddock fence in the middle of the night, or to check in on our newborn calf, these vets were my inspiration. I would ride along with them any chance I could get and saw how a passion could become a fabulous career. I knew this was what I wanted to pursue for myself.
Q. How do you personally see nutrition play a role in overall health and longevity of pets?
Nutrition is so fundamental to overall health. A pet's genetics and the environment are key contributors to their health and wellbeing, but when we combine great care with top nutrition, the benefits for a dog or cat are significant.
Studies have shown that nutrition can help increase a pet's lifespan by up to 25%. But moreover, pet parents often remark that their pet's quality of life is better since transitioning to a premium, natural brand. The improvement in quality of life is evidenced in many ways, whether it's with more energy and enthusiasm, ideal body condition, a soft, shiny coat or better digestion.
Pets are a key part of our family and giving them the best nutrition is a way of making sure they are healthy and happier for longer.
Q. How can pet parents work more closely with their veterinarians to ensure pets are getting the best nutrition for their needs?
Your local veterinarian is the perfect partner for helping advise you on the best nutrition for your dog or cat.  As part of an annual check-up, your veterinarian will assess your pet's general health, weight, mobility, teeth and review issues they are experiencing. With this background, your vet can recommend the right recipe to either help support health issues or ensure that a pet in great health stays that way.
Q. What's one of the most common questions you get from pet parents?
The number one question by far is, "Am I feeding the best option for my pet?" There are so many brands available today and pet parents can easily be confused, but we always want to feed the best we can. That's why teaching pet parents about pet nutrition and helping them choose a diet is an important part of my role.
Q. Can you share a wacky or especially memorable story of a pet that came to see you?
Clinic life was often wacky! One morning I came into work to find a large, wild, western grey kangaroo sitting on the consult table with a broken leg. Over the next few weeks he fast became the clinic's favourite patient. Another day, an adorable 5-year-old brought in her goldfish because one of his fins was longer than the other. But one of my favorites was caring for the most adorable Jack Russell who had a very unfortunate encounter with a dog far larger than him. Poor Ted needed three surgeries over the next few months, and it was truly that little fellas heart of gold that got him through the toughest time of his life and brought him back to his old self!
Q. What are some of the differences between pet parents and pets in Australia vs. in the United States?
Not much at all. One of the privileges of my role is that I get to travel all around the world talking with pet parents. All of them have the same love and desire to give their dog or cat the best. They have the same health concerns, from dental issues to skin sensitivities.
The cat parents all remark on how fussy their cats are and how they'll only eat a certain flavor. And globally, dog parents are choosing smaller breeds with an increasing number of millennials becoming pet parents.
Q. What do you like most about working at Wellness Natural Pet Food?
Pet passionate colleagues. There will be challenges sometimes, but when you have the best colleagues to work with who are all dedicated to supporting the health and wellbeing of dogs and cats, it makes our workplace so enjoyable and means that I can truly say, I love what I do.
About This Page
Date:
28/04/2018